beaming beauty laser
Disable Preloader
True laser
For the best results, Beaming Beauty uses the advanced Candela GentleMAX, LASE and YAG hair removal technologies which are the top of the line painless lasers for all skin types.
Clinical Expertise
We know everyone is different and unique. Our Licensed Professionals are certified with years of training and experience to customize any treatment after your free consultation.
Peace of Mind
Where others bind you to long term contracts, you decide the terms of your treatments. No pressure. In most cases eight to twelve treatments in a row is all that is required to achieve the desired results.
Our Services and Products
We know living in Florida you want to be comfortable with your skin but also protect it from the elements. Beaming Beauty has your best interest in mind. We provide laser hair removal and facial services. We take your care seriously and will always provide a free consultation before your first treatment.   Even if you decide to go elsewhere, consider it a red flag if other locations do not provide this initial evaluation.  Trust us at Beaming Beauty. We use the latest equipment and our qualified professionals will tailor your treatment to fit your needs. We are committed to offer our clients outstanding service with long term results.
Why laser?
Effective: We have different lasers depending on skin type whether light or dark.
Safe: FDA approved since 1997. At Beaming Beauty, we only use the state of the art technology.  Our licensed medical director and technicians are highly knowledgeable, skillful and experienced.
Painless: It is possible to achieve satisfying results with minimal discomfort. The laser feels like a rubber band snapping against your skin. At the same time, a device sprays air directly onto the skin to cool and soothe.
Convenient: Laser hair removal can easily treat large areas in a short amount of time. For example, a full body treatment can be done in approximately one hour. And, unlike waxing that requires longer hair growth, shaving is permitted prior to laser treatments.
How it works
Laser Hair Removal permanently reduces unwanted hair from any area of the body. The laser beam travels through the skin and is absorbed by the melanin in the hair shaft and converted to heat. The heat destroys or weakens the follicle and the hair shaft detaches from the follicle. The hair sheds and without the follicle, hair can no longer grow.  Multiple treatments are required and laser hair removal is only effective on hair with dark roots. Unfortunately, it will not work on red, blonde, gray or white hair.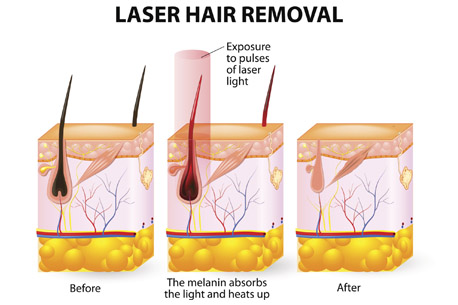 Numbers don't lie
When you consider all the products over the years you have purchased to remove unwanted hair with alternative methods, the total would be less than what a full body treatment will cost.  Skeptical?  Do the math.  How long have you been shaving or waxing?  How many times in a year do you shave or wax?  How much is spent on these products?  How much of your time do you invest?
Still Skeptical?  Set up a Free & Private Consultation
Prior to treatment
Laser hair removal clients must Not be pregnant or have tattoos in the treated area.  They should avoid sun exposure, tanning beds, spray tans two weeks prior to treatment.  Clients who have been sunburned, tanned or shedding skin must reschedule until the skin heals. Be prepared to shave the area the day before your appointment avoiding the face.  Clients must stop waxing or tweezing at least three weeks prior to treatment.  This is necessary since the laser targets the pigment of the hair follicle so the root is necessary.  Clean skin free of perfumes, deodorant or lotion is also necessary.  Any kind of medical treatment should be disclosed prior to treatment.  Clients who are using medications such as Accutane must reschedule their appointment with a minimum of six months. Antibiotics also could increase sensitivity so it is recommended to discontinue seven days prior to laser treatment.  Lastly, clients treating the face should avoid chemical peels, hydroquinone, retinol/retinoid, tazorac, diferin for two weeks prior to treatment.  Those who are using Botox or dermal fillers in the area to treat should wait a minimum of fourteen days after injections to receive treatment.
Jean Johnson M.D.
Medical Director
She is a Florida board certified physician who has practiced in South Florida for 23 years. Dr. Johnson received her undergraduate degree in chemistry and her post graduate medical degree from the University of Miami School Of Medicine. Passionate about a holistic treatment approach, she is eager to share life-changing solutions for the 21st-century woman.
Paola Martinez
CME, CCE, CLHRP, Aesthetician, Journalist
After a successful career as a radio show personality, one day, she herself became a client of laser hair removal. She was so moved by the results, that she was Beaming with confidence. After seeing firsthand how clients feel and the difference it has made in their appearance, she decided to change careers. For more than four years she has worked at the most prestigious spas in Bal Harbour Islands and Weston. Now, at Beaming Beauty, she wants others to feel that same euphoria.
Your information was successfully submitted.